Winning the Name Game – How to Create Unforgettable Names
October 15, 2020 @ 11:30 am

-

12:30 pm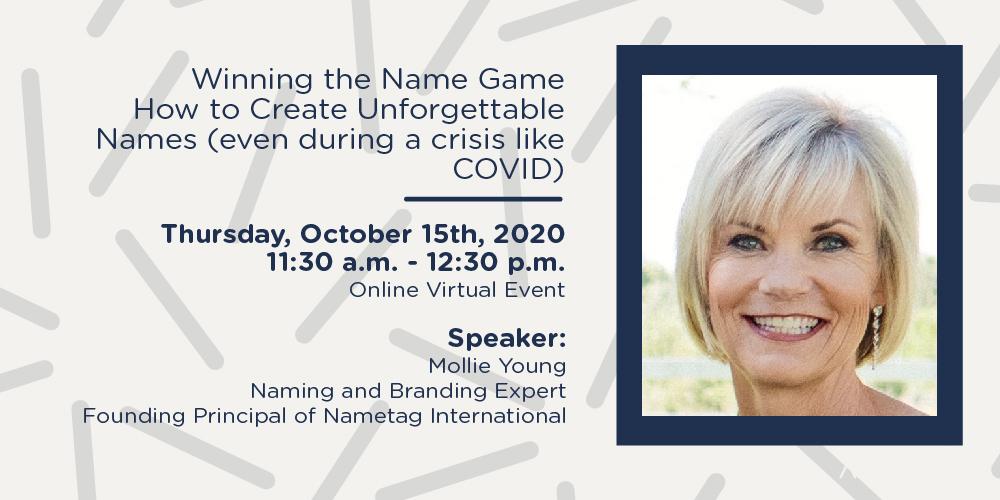 Join Mollie Young, Founding Principal of Nametag International, a global naming and brand strategy firm, as she leads you through a step-by-step process of how to create Unforgettable names.
It doesn't matter if you are naming a healthy snack, a toothpaste, a car, a financial technology or even a new company, creating a great name is imperative in today's competitive market. Find out the secrets to creating great names and ensuring they are legally protectable as trademarks. Learn how to reach your key audiences thru naming, learn how to ensure the name you choose is trademarkable, and make sure your brands are speaking the right language in this global world.
Key takeaways –
How a successful naming project delivers business success
How to address audiences from the inside out
The role of trademarks in naming
It's a global world – are your brands speaking the right language?
Important things you can do to make your brand relevant in the current conditions or conditions right around the corner
Mollie has over 30 years of strategic branding experience, working with many global companies across all sectors including Cargill, Boston Scientific, General Motors, Land O'Lakes, Procter & Gamble, McDonald's, General Electric, 3M, Whirlpool, Deluxe, Hormel, Monsanto, General Mills, Honeywell, Pfizer, UnitedHealthcare, etc.
She is a frequent speaker and panelist on topics including brand strategy, global naming, rebranding, consumer trends, branding trends and brand research/insights.
NOTE: WEBINAR ZOOM LINK WILL BE INCLUDED IN THE EVENT REGISTRATION CONFIRMATION EMAIL FROM EVENTBRITE.