The Great People Shortage: Finding Talent in a New Era of Job Satisfaction
May 19, 2022 @ 11:30 am

-

1:00 pm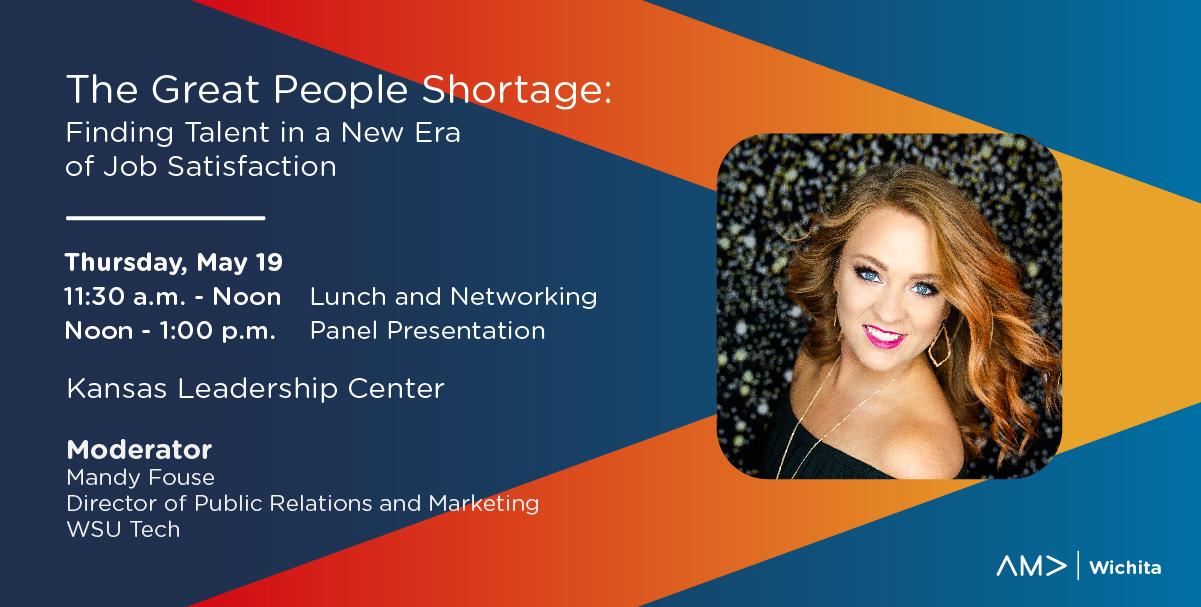 During the greatest labor shortage since WWII, employers are struggling to recruit talent, and professionals are reshaping their view of work. Join us in a panel discussion – featuring perspectives from HR, marketing, inclusion, and education – to get insights on how to infuse marketing into your recruiting practices and attract the right candidates for your business.
Date: Thursday, May 19, 2022
Time: 11:30a-1p
Location: Kansas Leadership Center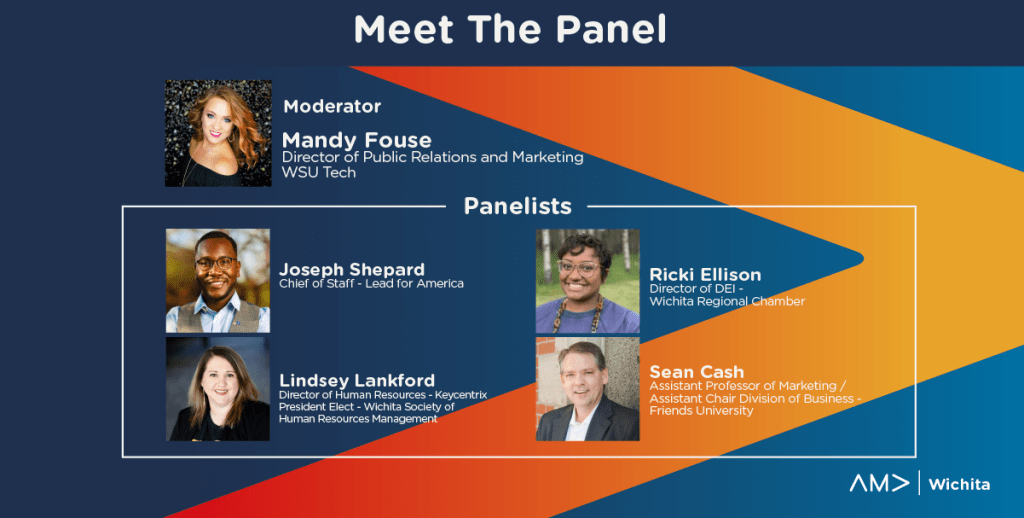 Moderator
Mandy Fouse, Director of Public Relations and Marketing at WSU Tech
Mandy Fouse is the Director of Public Relations and Marketing at WSU Tech. In this position, which she often describes as the "best job in the world", Mandy and her team are leading the way in higher education marketing through digital and social media advertising, storytelling, and strategic public relations efforts. Born and raised in Wichita, KS she is passionate about her hometown and loves to support its local businesses. Mandy attended Wichita State University, where she earned her Bachelor of Business Administration in Marketing and Entrepreneurship, and went on to attend Friends University, where she earned a Master of Business Administration. In 2019, Mandy was named one of Wichita Business Journal's Women Who Lead in Marketing and Communications. She was also named a Marketing Awards honoree with the Wichita Business Journal in 2021. Mandy and her husband Caleb have been happily married for over 12 years, and they have the coolest kids, a 5-year-old son named Beckham and a 1-year-old daughter named Parker. She is a lover of Tacos, The Office and never lets an opportunity for a good pun pass her by.
Instagram: @mandynfouse
Facebook: /mandy.fouse
LinkedIn: in/mandyfouse
Twitter: @mandyfouse
Panelists
Joseph Shepard, Chief of Staff at Lead for America
Many people born into poverty and hardship have a hard time overcoming it. Joseph Shepard took a difficult childhood to change the trajectory of his life. Born into a military family, Shepard recalls sleeping in a car, living in homeless shelters, and struggling to maintain a stable lifestyle. Those experiences, coupled with other hardships, help shape his passion to tackle critical challenges that hinder young people from achieving their American dream.
As a first-generation college graduate, Shepard holds a Bachelor's degree in Criminal Justice, Master's degree in Public Administration with a focus in nonprofit management and is currently working on his Doctoral Degree in Educational Leadership at Wichita State University.
Shepard is a community mobilizer, champion for youth and young professionals as well a conversational catalyst for equity and inclusion. Previously, Shepard served as the Director of Multicultural Engagement and Campus Life at Newman University building the DEI framework from the ground up. In Lead For America, Joseph was hired on to build out the Lead For Kansas organization, placing young professionals in 2 year service fellowships in their hometowns with a goal of exposing young professionals to opportunity in their community with hopes of retaining them post-fellowship. Since his start with Lead For America, Shepard has been promoted to Chief of Staff to CEO of Lead For America, Joe Nail, overseeing partnerships, execution of strategic plans and staff morale.
When not working for LFA, Joseph spends time serving in the community through various non-profit organizations.
Lindsey Lankford, Director of Human Resources at Keycentrix and President-Elect for the local Society of Human Resources Management chapter
As Director of Human Resources at keycentrix™, Lindsey Lankford leads the company's efforts to recruit and retain talent and foster employee engagement so that the company and its employees can thrive. She exemplifies the company's values of love, empathy, and good business practices to guide the leadership team to place employees in the right roles and shepherd a healthy internal culture, every day.
For Lindsey, being a human resources professional is a calling. She truly enjoys helping people, whether that's helping an employee navigate confusing insurance costs for a sick family member; hiring the right candidate with a high likelihood to succeed; or rolling out policies and procedures that benefit both the company and the employee.
Lindsey came to keycentrix™ in 2022 after more than six years serving as the Assistant Vice President of Human Resources at Legacy Bank. Prior to that, she spent several years with Davis-Moore Autogroup, first as an accountant, then moving into the focus area that she loves.
An Augusta, Kansas, native, Lindsey graduated from Augusta High School. She earned an associate of arts degree with a vocal music scholarship from Butler Community College before earning a bachelor's degree in human resource management from Wichita State University and a master's degree in business administration from Baker University.
Lindsey has been heavily involved in the Wichita community, volunteering for not-for-profit organizations including the Arthritis Foundation, Cystic Fibrosis Foundation, United Way, Wichita Children's Home, Botanica, and the Kansas Food Bank. She has been a Mission Wichita participant as well as a board member for W Young Professionals and Old Cowtown Museum. She is currently President-Elect for the Wichita chapter of SHRM.
In her free time, Lindsey loves to spend time with her wonderful husband, Jacob; precociously adorable toddler son, Lucas; and fur-baby, Lincoln the dog. She also revels in the opportunity to see her favorite musicals at Music Theatre Wichita.
Lindsey always has a soft spot for a good "dad joke." Her favorite? "What do you call a fish with no eyes? A FSH!"
Ricki Ellison, Director of DEI for the Wichita Regional Chamber
Ricki Ellison is the Director for Diversity, Equity, and Inclusion for the Wichita Regional Chamber of Commerce where she serves as an ambassador and advocate for inclusive and equitable initiatives, as well as a strategic partner to Chamber leaders, DEI workgroups and key stakeholders and investors.
A former Clinical Educator and Academic Advisor for the Sport Management Department at Wichita State University, Ricki served as the key facilitator for recruitment and retention strategies of students from diverse backgrounds. Ricki got her start at Wichita State through her time working in the Admissions Office where she was the Diversity Recruitment Manager. She managed the work of the diversity recruitment interns, current WSU students who work with local schools to foster a college-going message and share success strategies.
Ricki currently serves on the WSU Alumni Association Board of Director, WSU College of Engineering Diversity Advisory Board, LGBTQ+ Task Force, WSU College of Applied Studies Diversity Committee, Steve Clark YMCA Board of Directors and is a WSU on-campus advisor for Kappa Alpha Psi Fraternity, Inc. and co-advisor for the Black Student Union.
Sean Cash, Professor of Marketing and Assistant Chair, Division of Business Information and Technology at Friends University
Sean Cash has been with Friends University since 2010 as an adjunct instructor of marketing. In 2018, he became the program director for the undergraduate business management program in the College of Adult and Professional Studies. He teaches core business courses in the program. He has a distinct career in business and entrepreneurship, which has involved starting, managing and exiting four separate businesses in his career. He has held leadership roles in small businesses as well as Fortune 100 companies while specializing in marketing, new product development and implementing business growth strategies.