Creating Brand Champions
November 17, 2022 @ 11:30 am

-

1:00 pm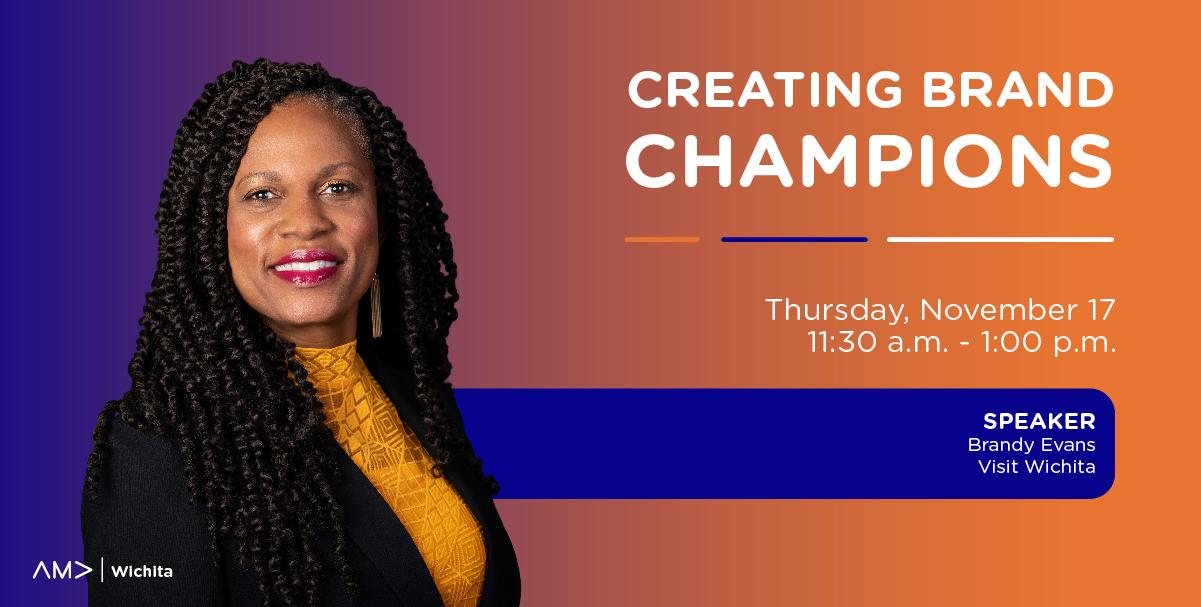 About this event
Join us with Brandy Evans and hear how Visit Wichita is building brand evangelists and learn some tips to create your own.
Businesses need cheerleaders to champion their products or service. Hear how Visit Wichita is building brand evangelists and learn some tips to create your own.
3 Takeaways:
1) How to Be (and Gain) a Brand Champion
2) Benefits of a Brand Champion
3) Amplify Your Brand Champions' Voices
Event Details

11:30 – Noon Lunch
Noon – 1:00 pm Presentation
Location:
Envision, Inc.
610 N. Main Street
Wichita 67203
Get to Know Our Speaker
About Brandy Evans
Brandy Evans celebrated 21 years in marketing and tourism in January 2022. She started in 2001 as the public relations specialist for the Shreveport-Bossier Convention and Tourist Bureau and was promoted to Vice President of Communications in 2004. In 2021, she accepted the role as Vice President of Marketing for Visit Wichita.
Some of her professional accomplishments include winning several awards: Top Women in Travel Award Outstanding Woman in Hospitality, Best of Show by International Association of Convention and Visitor Bureau's publicity campaign "Be a tourist in your own hometown" and two International Association of Convention and Visitor's Bureau's Idea Awards for public relations efforts and casino coop marketing.
She also won multiple Davey Awards and Addy Awards. She was a 2012 Athena Leadership Award Finalist. This award recognizes an individual who has attained and personifies the highest level of excellence and creativity in their profession, while continuing to devote time and energy to improve the quality of life for others in the community.
Over the years, Brandy has mentored more than a dozen young professionals through a communications internship program that she established at the Shreveport-Bossier Convention and Tourist Bureau. Some of those intent went on to become executives at other tourist bureau's, college professors, advertising account executives, and marketing firm owners.
To further bridge the gap between academics and professional work environments, Brandy was an adjunct professor at Centenary College, where she taught Social Media Marketing and Principles of Marketing. She has been a guest lecturer at Friend's University, too.
If asked how she describes her professional role, Brandy labels herself a community cheerleader and tries to spread that same joy and enthusiasm about the community she lives in to those around her.
She has served on the Louisiana Tourism Development Commission, Louisiana Holiday Trail of Lights, Shreveport-Bossier Attractions Association, and the Louisiana Travel Association board of directors. She previously served on the boards of the YWCA, Shreveport-Bossier Advertising Federation, and Downtown Shreveport Unlimited. Her other volunteer projects include Clubhouse Guatemala Mission Trip, HUB Ministry, Step Forward Literacy Project, Highland Friendship House Kid's Club and Junior Achievement Spark Workshop.
Some of her other endeavors include speaking engagements for TBEX, a travel bloggers conference; Destinations International; Fit for Life; ESTO, and Society of American Travel Writers – Central States Chapter.
Her greatest personal achievement is being selected to be a part of Weight Watchers national tv campaign with Oprah Winfrey in 2017. Brandy lost 32 pounds and has maintained a healthy lifestyle for several years. She was featured in the Weight Watchers International Magazine, Women's Health Magazine, City Life Magazine and other online, social media and print publications.
Brandy's life mottos are to "Live Fully" and "The Best is Yet to Come." She is passionate about all things marketing, travel, family, and friends. She enjoys volunteering and mission work abroad. She is the mother to one daughter.