Jumpstart Your LinkedIn Lead Generation Strategy
July 22, 2021 @ 11:30 am

-

12:30 pm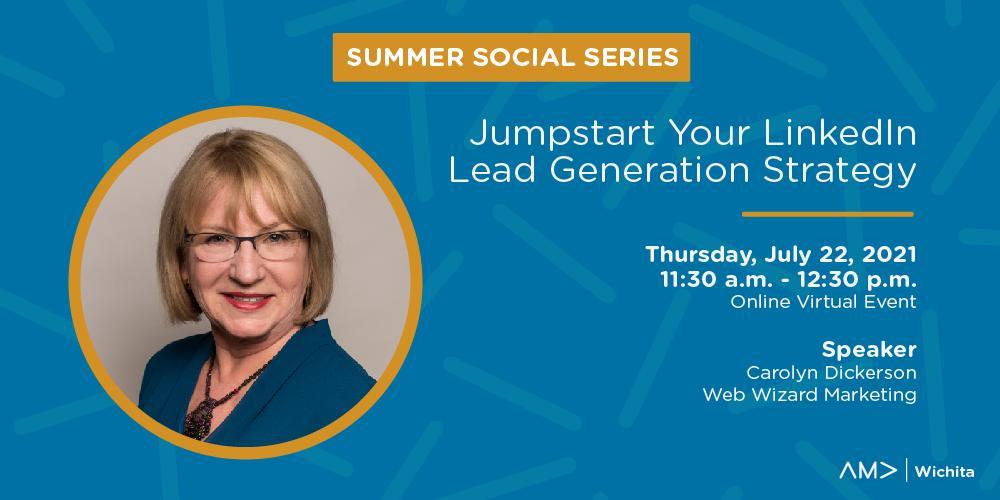 Business professionals invest time on LinkedIn. They're looking for content that helps them solve a professional problem — and if your content fits the bill, the results can be rewarding. Studies show that 80% of B2B leads come from LinkedIn, and 94% of B2B marketers use LinkedIn to distribute content. 
On LinkedIn, B2B marketers like you can find their next business partner, introduce their company to potential customers, and attract star talent to join their companies as employees. From entry-level professionals to influencers, to experienced decision-makers, everyone you would ever want to target is on LinkedIn. 
Although LinkedIn has traditionally been known as a B2B network, the platform is ripe for B2C brands looking for better ways to connect with their target audiences. LinkedIn can also be an alternative to Facebook for B2C brands wanting to connect organically and educate users about their high-ticket products. 
Topics 
Strengthen Your Business Profile 

Repurpose Content Used on Other Channels to Generate Leads 

Supercharge Your Posts to Increase Your Visibility 

Organic/Paid Lead Generation 

Leverage Employees LinkedIn Profiles to Increase Brand Awareness 
Results 
Here's what you'll learn at this workshop:  
How to Drive Traffic to Your Website 

Identify Quality Leads 

How to Share Thought-Leadership Content to Increase Followers 

Grow Awareness of Your Brand
Bio:
Carolyn Dickerson is a Digital Marketing Consultant and Certified Technical Trainer. With years of experience in strategic planning and digital marketing, she has experience working across a wide variety of industries and disciplines. She holds an MBA from Thomas University with an Associate Degree in Computer Science and is a Certified Technical Trainer (CompTIA CTT+). 
Carolyn has the unique ability to strategically review an organization's assets for opportunities and stumbling blocks, and turn them into stepping stones. She keeps the focus on increasing leads, conversions and sales using digital and traditional tactics integrated across marketing, business development, and IT.  
Managed 100+ projects ranging from $100K-$2.5 M on budget and on time

Successfully executed redesign and migration projects on over 850+ websites, minimizing loss of data and optimizing for leads and revenue 

1000+ hours of presenting and training on a wide variety of subjects including digital marketing, SEO, pay-per-click, lead generation, LinkedIn, and more
As a lifelong learner and contractor, she is always finding new resources and tools to make the most of marketing dollars to increase sales and customer satisfaction. An early adopter of LinkedIn, Carolyn has a vast network through which to forge connections for support of job seekers, businesses, and innovative ideas. 
She believes that it is important to give back to our community, so she continues to volunteer on the MARCOM and Technology Committees for the Cincinnati Chapter of the American Marketing Association (AMA Cincinnati) and contributes to Workforce Development initiatives for the Kenton County Public Library. 
More background on Carolyn is available on LinkedIn.com or WebWizardMarketing.com.