2021 Wichita Marketing Awards
June 10 @ 10:30 am

-

11:30 am
Register Today!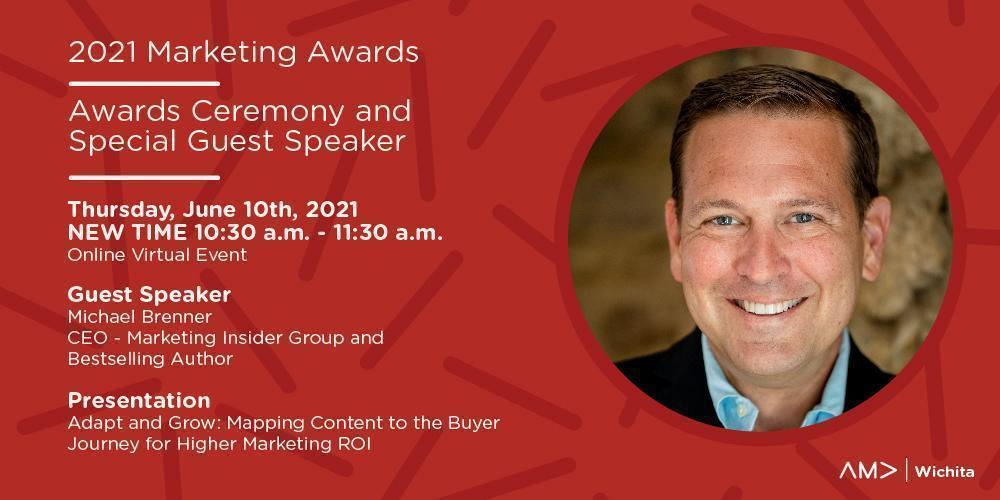 ---
Please note: the time for this event has changed. The NEW TIME is at 10:30am. See you then!
---
Virtual Celebration! You will definitely enjoy our keynote speaker, CEO of Marketing Insider Group, and Bestselling Author, Michael Brenner followed by the AMA Marketing Awards Ceremony!
About Speaker Michel Brenner and the Session:
Adapt and Grow: Mapping Content To The Buyer Journey for Higher Marketing ROI
Today's business leaders are looking for marketing to achieve growth. Marketing leaders need to show balance between brand-building programs and performance marketing by setting a vision and determining the resource allocation between short-term revenue targets and long-term strategic ROI.
And yet, every day, we are getting asked to promote our products and services in a way that often loses focus on the audiences we serve.
In order to bridge this gap, Marketers need to demonstrate business value to executives by making customers the heroes of the stories they tell with clear connectivity to vision and the bottom line. Brilliant marketing leaders know that by focusing on customer value, we deliver better outcomes for the entire business.
Join Michael Brenner, CEO Marketing Insider Group to hear about how the future of Marketing is about adapting to the changed landscape and evolved buyer's journey with insight into mapping content to the new buyer's journey and delivering results your executive team will value and the business will grow from.
You'll walk away with:
1. Insights for the landscape and buyer's journey road ahead
2. How to map content to the new buyer's journey
3. How to prove that marketing is a strategic business growth contributor to revenue
4. Key takeaways for achieving the necessary adaptation and growth today's landscape demands