So You Want to Know…Answers to your analytics and ROI Questions
May 20, 2021 @ 11:30 am

-

12:30 pm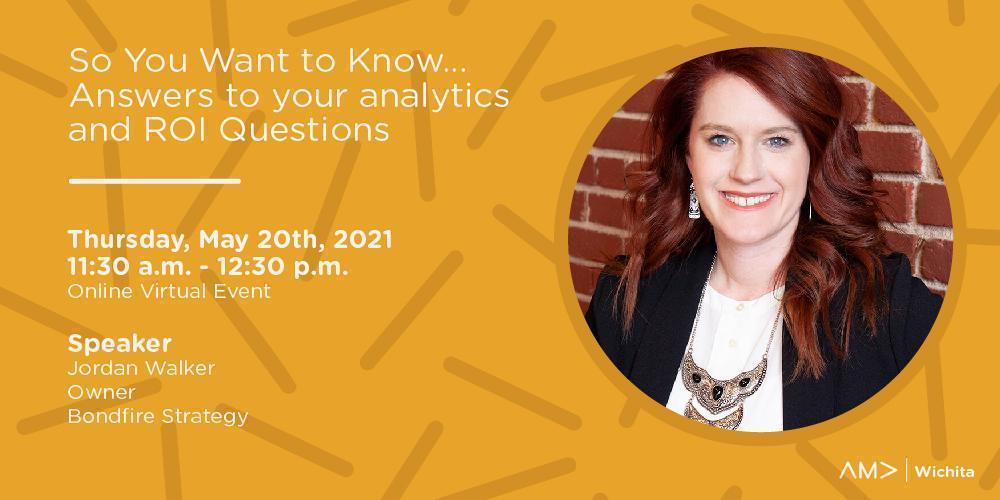 About this Event
You've heard the saying work smarter, not harder but that's probably easier said than done. As communicators we're busy telling stories, pumping out emails, posting on social media and trying to squeeze in some training time to keep up with the constantly changing online environment. Sometimes it's just tough to take a step back and evaluate how things are truly working.
The thing is, marketing today is highly measurable and understanding how those tactics perform against our customer journey can help us streamline our efforts. We just need to know what questions to ask and where to look for those answers.
In our next session, we'll meet with past AMA presenter, Jordan Walker, who brings a passion and curiosity to marketing analytics. Together, we'll go through some of the questions that she recommends marketers should ask and how to identify the right data points to uncover meaningful insights.
So pack your detective hat and an open mind as we discover just how we can use metrics to drive our next campaign.
Do you have a specific question you'd like to explore? Send those to Angela.Cato@ymcawichita.org by May 17 for consideration.
About Jordan
Jordan Walker is the owner of Bondfire Strategy. She is most known for her key strengths in customer experience strategy, marketing measurement and campaign optimization. Others, however, might say that her key strength is striking up conversation – and that's fine by her, too. For Jordan, connecting with passionate leaders in the community fuels her the most.
Having spent more than a decade working with organizations of all sizes – from nonprofit to Fortune 500 companies – she realized that oftentimes marketers are so busy executing tactics that they don't have the time to realize the full customer journey.
Through Bondfire Strategy, Jordan is now focused on partnering with businesses to optimize efforts by aligning organizational goals to customer-focused planning and measurable marketing tactics.
She's been recognized for her efforts including Wichita AMA's 2019 Agency Marketer of the Year and Wichita Business Journal's 40 under 40. As an active member of W Young Professionals, she leads the Civic Engagement sub-committee whose goal is to inspire young people to be more active in the conversations and decisions that shape our city.
When Jordan isn't at her desk analyzing results, you might find her tilling up dirt in the garden, hitting the road to one of our many state and national parks, or reading a book on the patio at one of our fine local establishments.