The Future is Now: Pivot Your Marketing Strategy for Web 3.0 & the Metaverse
July 21, 2022 @ 11:30 am

-

1:00 pm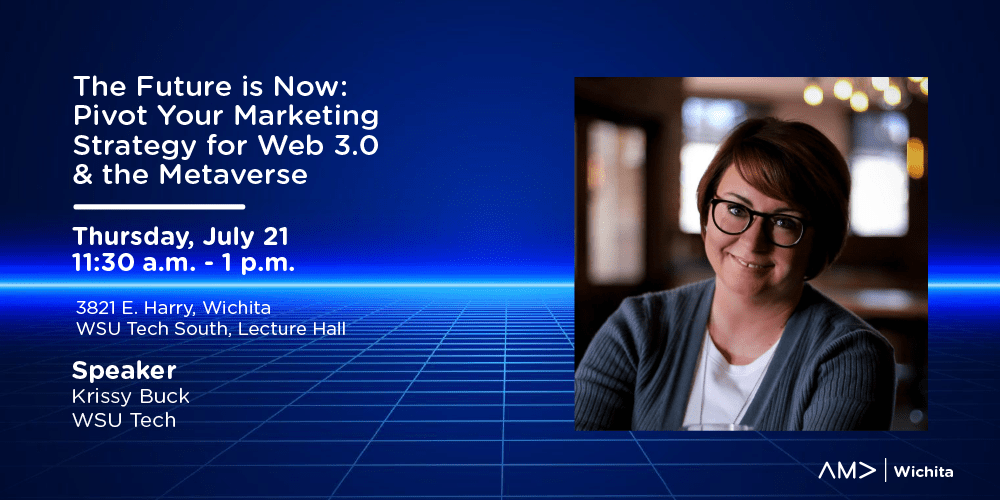 Web 3.0 isn't just cryptocurrency and the blockchain; it is the next iteration of the internet. Web 1.0 was about information, 2.0 was/is social, and web 3.0 is about the experience. Virtual reality, augmented reality,  Holograms, NFTs, Crypto, Social Tokens, and Discord are all a part of a new decentralized world. It is already here with beauty brands and home décor using AR to market their products. Big brands like Coca-Cola use NFTs to bring awareness to social causes, and VR is being used to bring people together. We need to look ahead at this new version of the web and figure out how marketing plays a role. We assess that a massive key to success is online community building and management.
We know it's a mind-blowing concept, but remember the Wild West of AOL Instant Messenger? Remember how cool and dangerous chat rooms were in 1998? It's time to dust off your boots and put on your ten-gallon hat because we are entering the Wild Web 3.0.
Event Details
Date: July 21, 2022
Time: 11:30a-1p
Location: 3821 E. Harry, Wichita | WSU Tech South, Lecture Hall
Get to Know Our Speaker
Krissy Buck
"Building inclusive communities online and in-person is Krissy Buck's passion. She is the Department Chair of the Digital Marketing program at WSU Tech, where she teaches her students how to use digital marketing to build relationships for themselves and brands. She is the former Chief Community Officer of a Wichita tech start-up, QuiCC, where she grew a user base of users in 77 countries in just ten months.
Krissy believes strongly in our Wichita start-up ecosystem and enjoys volunteering as an Organizer for 1 Million Cups Wichita. She is the digital marketing expert during Groover Labs Office Hours where she gives marketing advice to start-ups and small businesses. She also mentors students who work for ShockStarter, a student marketing agency that employs WSU and WSU Tech students. Krissy is currently participating in Advance Kansas to learn how to promote diversity, equity, and inclusion in our community and sits on the IDE committee at WSU Tech.
In her free time, Krissy enjoys eating brunch with her friends at Homegrown, hanging out with her cat Hobbes, speaking in Gifs, and watching Murder She Wrote.